It can be any thing, it goes waste when you don't measure it. lets say, Working so hard since years for winning online customers. You didn't measure your efforts to know what worked, what did not worked. Then that entire hard work gone waste. its true right.
Through Out my experience i have seen business that are successful by regularly tracking data, running behind numbers & doing analytics, and working on things that should be fixed etc.
I also noticed that doing regular web analysis is difficulty jobs for marketers, SEO's for years. Introduction to web analytics tools made their job more easier.
Lets know more details i.e.
What is web analytics?
Why it is important?
How Do we use Web Analytics Effectively?
What are different web analytics tools available for tracking our customer behavior?
How can we best use each of the recommended tool?
What is Web Analytics, why it is important?
Its all about analysing the efforts done to the website/app to win the customers.Web Analytics is about knowing what works and what does not. It helps figure out action items, making decisions and planning the next move.
How do you use Web Analytics effectively?
Assumptions don't work.
As an SEO, your planned actions, next moves & decisions for your website data , must backed with Qualitative & Quantitative analysis. So its always important to learn How to Analyse your website's data.
I recommend you to do analysis step by step, so to make it more effective. Doing it this way can help you (any business owner, webmaster) in understanding more about customers behavior.
Don't know what is Qualitative & Quantitative analysis, then read when to use qualitative vs quantitative data
To analyse your business success, Its not measuring ranks , but always analyzing Conversion Rate (Views to Leads), Gap analysis, should be the primary focus.  So to make it more effective Your business should have a goal,
If you don't have , set it now. Now you had a goal, then analyse the conversion rate(fulfilling end user action items), if it is lesser  or not meeting the business needs, then analyse the gaps, fix them and measure again. This is what we do it with web analytics tools. Now understand the same in more detail:
Step 1: Setting a Goal
To set your goal, knowing what you want? or your end users action item, is important for any business. it can be varied based on your type of business.
Subscribe for your YouTube channel, blog, news letter, latest offers etc.
Enroll for your course,
Request for your services
Purchase your product etc.
once that goal is set, it's time for step 2.
Step 2 – Figuring Out the Issue or an Problem
You must find different reasons, responsible in lowering the rate of conversion.
Check for Pages with Highest Exit rates, analyse to know why visitors leave, figure out ways to retain them. Different ways includes (content optimization, addition of media, Info graphics etc)
Web Analytics tools can make this job easier.
Step 3 – Fixing the Issues (Optimizing UX, etc)
To be success full, Move with the trends.
Today it is user-friendly, mobile optimized websites, grabbing the attention of millions users.
To fix this issues easier ,Instead of knowing what works, its easiest way to know what do not work. Just avoid this bad UX elements in your design and you'll be well on your way to pace up..
Loading time
404 errors , Broken links
No social sharing buttons
Contact details not found
Now Media, Structure of content etc
Non Responsive
Amber Leigh Turner explains the Do's and Don'ts of UI and UX in this amazing article
Work on the things that are missed on your website. Wait awhile and you will be surprised.
By now you might know what is web analytics, why it is important, how to use Web analytics effectively.  Then Its time to know how Web analytics Tools can help you in analysing your website data or do web analytics.
How Web Analytics tools can help?
Depend on how you use, web analytics tools can bring out lots of information, from websites data. However, I've put here few details you should know.
1. What do users search for?
You can find the keywords, visitor use on search engines, to find your website via organic search results.
One of the best tool that can help you in finding this data is Google Search Console.
This helps you to:
In fact, the blog post you're reading right now was written by gathering insights from keyword variations that marketers searched for, i.e., "Web Analytics Tools".
2. Best and worst performing content
Understand what content help's, what will not using your content performance report. You can, for instance:
Update the content of your articles
Re purpose Content by adding elements such as Infographics, Slideshares, and Case Studies
Try different Content Marketing methods
Use paid options (sponsored, blogger outreach, guest posts) to get an extra boost
Maybe, a new and refined approach designed with the help of insights from Web Analytics tools will make your content work! And even when it doesn't, you'll definitely know about it from analytics tools.
3. When, where, and why does the user stop his/her journey on your website?
Knowing this is the best thing for an online marketer. Instead of dismissing your entire strategy, just get rid of the element that isn't working.i.e.
Is it the Cost of the Service or Product,
An annoying payment procedure?i.e. not the easiest payment mode, i can recommend PayPal, Instamojo here.
A compulsory action that the user doesn't want to take?
worst color combinations,
Loading speed
No Responsive design
Content Structure or some thing else.
Identify that, redesign the experience thereon, and see the difference!
4. Campaigns that work
John Wannamaker, one of the pioneers of Marketing, once said, "Half the money I spend on advertising is wasted; the trouble is, I don't know which half."
Well, you don't have that problem! Measure the success and failure of your online campaigns, understand what works, and experiment with new things.
Set up UTM tags on various URLs to tag which of the articles/campaigns are working. I use this approach whenever I'm doing a guest post. This helps me to know whether that post resulted in driving traffic to my blog or not.
Here is a Step-by-Step guide on UTM tag Builders.
5. Location-based data
If your business is serving just one country or city, your Web Analytics requirements includes analyzing data based on your target location. There's isn't much of a point if the website of a shop in Hyderabad gets most of its traffic from Bangalore City, is there? These are the reason why location is so important:
Your customers look for Region Specific Festive or special occasion offers and discounts
Content Localization
Audience likes, dislikes varies from location to location (you can't make good deal with a wrong person)
[Here is a list of Must read Local SEO Tips to rule Google Maps]
6. The device that is used to view content on your website
Trends show that Audience uses Mobiles for know the things they want from Web. 80% of audience uses Smart phones to buy a product, request a service, order food, buy groceries, pay bills, find address, learn skills online says smart insights.
You can't Ignore Mobile any longer, It's matter so much today, even in future. It wouldn't be surprised if you are reading this on your Smartphone.In fact, in the next couple of years, there will be a 10% increase in the number of people accessing the internet on their mobile phones! Now can you imagine the damage you've done to your business if your website is not mobile optimized.
Check what devices and browsers your audience is most on, and optimize accordingly.
By now, you should have knowledge about what Web Analytics Tools can do for you,
Different Web Analytics Tools, Its Features, Know How To Make Most out of it.
Here we can know best Web analytics tools (free & Paid), their features & how to use each of the tool to make most out of it.
Google analytics is an Free tool developed by Google, you can understand more about this here. Google analytics allows you to analyze in-depth detail about the visitors on your website, YouTube channel. Get to know your customers.
Google analytics wins over other web analytics tools, And here's why:
Though it is bit difficult to onboard GA in to your Reporting, Google analytics is free (Premium Version of GA is Analytics 360), it gives you data that you can apply to grow your business. Google Analytics is for everything.
It helps in reviewing users' behavior (Go to Admin > Property Settings > Enable Users in Reporting. )
Competitive research on Google Analytics
It helps you to know the total traffic of your website
To Know which traffic sources send you traffic (Source/Medium report that's under Acquisition )
It also helps to know which pages of site bring traffic with the Landing Page report (under Behavior > Site Content)
It helps you track your ROI
Data integration with AdSense is a unique characteristic
To do more, try out these with Google analytics
one thing that hurts, about google analytics is The more data you have, the less "real" data is included in each report
The internal split testing feature is really cool
It's got an awesome conversion tracking software
Report generation is simple and relevant
[Every thing about Google Analytics every internet marketer should know]
Besides this, I've listed 10 Web Analytics tools in two sections: Free and Paid.
The best thing about Clicky is its simplified dashboard which makes it very convenient to check statistics and take quick actions. Plus, it offers:
Real time data
Twitter Search tracking
Cost: Free. Pro version for $9.99/Month onwards
I particularly love their "Spy" feature, similar to the online feature on Google Analytics. It's easy on the eye and offers a detailed view of what users are doing on your site, from where they were referred, the country they are in, and the browser and platform they are using to access your content. All of it, in real time.
Ramsay Taplin gives a solid review of Clicky and goes to the extent of saying that it's better than Goggle Analytics! Blasphemy, is what it is!
Open Web Analytics (OWA)
Few features:
Open source
Self-Hosted
Heatmaps and mouse tracking
Funnel Analytics
Cost: Free
And what makes it absolutely irresistible is that it's fast. You can see that special care has been taken to make information visually appealing and easier to read.
Here's what Piwik's features are:
Self-hosted (PHP, MySQL)
Privacy and data ownership
Customized dashboard, with adjustable widgets for displaying stats
Faster interface and quicker insights
Community support in 53 different languages
Cost: Free; the Piwik pro starts at $65 per month
Piwik, apart from giving you complete control over data, is really helpful if you intend to create your own plugins. This is basically because it's a plugin-based tool.
Here, WebAppstorm has a detailed review of Piwik Analytics.
These features of Woopra make it worth trying:
Ability to have a live chat with visitors
Its "Appconnect" feature
Customized dashboard for each user
Cost: Free (till 30000 visitors), Pay $80-$1200+ per month to get more.
What I found the most interesting was its "Appconnect" feature. With it, you can utilize the services and features of 3rd party applications through Woopra. This can also include analyzing user behavior and triggering third party applications. For example, triggering a live chat based on a certain user behavior.
Trey Ratcliff reviews Woopra in a quick video which you can check for a detailed review.
Here's what impressed me about Heap Analytics:
User-friendly, with point-and-click interfaces
Define custom events to use the Event Visualizer
Cost: Free; Pro version starts $59-$399
This is a tool that efficiently tracks everything – video play, file downloads, form submissions, and literally anything you can place a tracking code on to! Heap records all bits of data and this helps you answer any question you have later.
And now we move on to paid tools – the ones that bring out every marketer's deepest apprehensions. But trust me, the ones I'll be listing out will be worth every buck.
Martin Bryant explains how Heap Analytics brings a clever approach to tracking interactions on your website.
So why should you pay for Mint?
Self-hosted and downloadable analytics program
Real-time stats
Customizable, with a special feature called "Peppermill"
Separate view for traffic generated from images
Cost: One time cost of $30!
Mint enables you to have more control over your site's analytics and the ease of its extremely user-friendly dashboard is a huge plus. It's quite refreshing! (No wonder they call it "Mint"!) It also uses native web charts instead of flash.
A few features of Kissmetrics:
Analyzes changes in user behavior
Timeline view of visitors
Easy-to-understand visual format
Track URLS by adding parameters
Cost: $149/month with a 30-day free trial!
One of the most important features is "Path Report," which will help you analyze the pattern of user interaction with your site. A few features, which are essential to Google Analytics, like "Traffic Data" are missing in Kissmetrics.
Leslie Poston tells you How to combine Kissmetrics with Google Analytics.
Here' are a few features from MouseFlow:
Mouse-tracking, Click, Movement, and Scroll heatmaps
Form and Funnel Analytics
Performance and usability testing
Cost: $19 per month
The scroll heat-map feature is the best, because it tells you how far your users scroll down through your content, with the complete mouse trail of a user. Besides, there are attention, geo, movement, and click heatmaps as well.
Ashwin Satyanarayana explains how to become a data-driven marketer with Mouseflow.
Why Crazy Egg?
Its "Scrollmap" tells you where visitors abandon the page and where you need to add elements to keep them interested
Feature called "Confetti": Distinguish clicks based on categories like referral sources and search terms
SEO update tracking
Chart intelligence – Google analytics overlay listing published Google updates.
Cost: $9-$99 per month (based on unique pages)
You can read the in-depth review of Crazy Egg by SeriouslySimpleMarketing.
Features which make Clicktale click
Visual guide to user interactions, just like Crazy Egg
Mouse move and click heatmaps
JS errors tool and bounce report
Form analytics
Cost: Between $99-$790
I love their form analytics the most – it shows which fields the users have filled, and which ones they leave out. This becomes highly significant when it comes to analyzing exit rates.
SeoChat reviewed Clicktale, and this is what they had to say about the tool.
You can check out detailed reviews of these tools before you invest in one. However, to make your life easier, here's a checklist that provides a comparison of all the above mentioned Web Analytics tools (there are 10 of them) for your easy reference.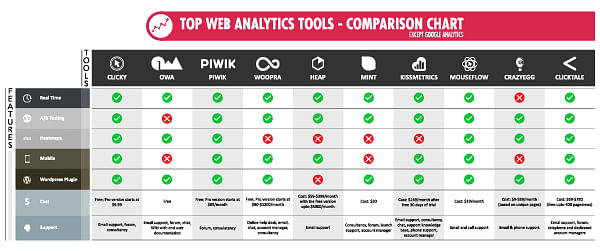 Never ignore web analytics – it's often what makes the difference between an ordinary marketer and a powerful, savvy digital marketer!
If you have any suggestions to make or points to add, comment away!
Check out our course on Introduction To Advanced Web Analytics Certification Training